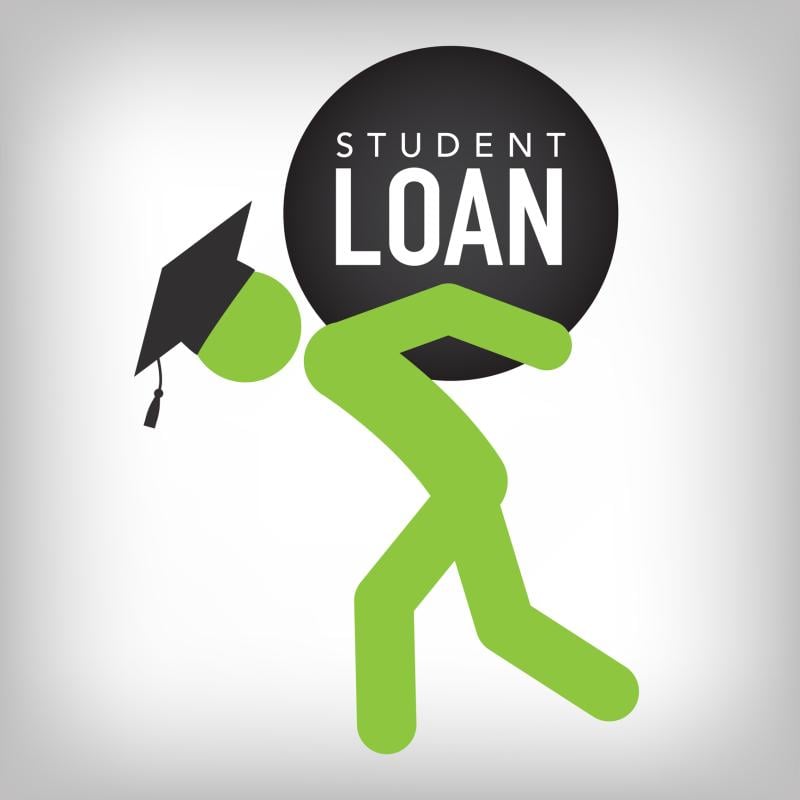 Parent PLUS Loans Widen Racial Wealth Gap, Study Finds
President Biden could forgive $10,000 in student debt, but civil rights advocates fear that figure may not be enough to address major racial disparities seen in student debt burdens. A new study released Tuesday by the Century Foundation found that it's not just black students who are disproportionately impacted by student debt, but also black parents through the Parent PLUS federal loan, a new finding on a federal program loan that has been mostly left out of the student debt relief debate.
Black borrowers, who are more likely to have low income and low wealth, take on more student debt and often struggle to repay that debt. Black graduate borrowers tend to have 50% more student debt than their white peers, increasing to 100% four years after graduation. Additionally, black college graduates hold seven times less wealth than white college graduates, contributing to difficulties repaying student loan debt.
Civil rights organizations, including the NAACP, have said $10,000 in aid per borrower would not be enough to address the financial cost that student debt places on black borrowers. A Roosevelt Institute analysis found that canceling $50,000 of student debt per borrower would immediately increase the wealth of black Americans by 40% and significantly boost economic recovery.
"While this solves some of the burden, it is not enough to really solve the high balances of black borrowers," said Victoria Jackson, deputy director of higher education policy at the Education Trust. "Black borrowers borrow on average about $39,000, which is much higher than any other racial or ethnic group."
Parent PLUS Loans
Black parents are disproportionately burdened with debt for their children to attend college through Parent PLUS Loans, federal loans parents can take out to help cover the cost of their children's education.
The Century Foundation study found that 42% of Black Parent PLUS borrowers have low income and low wealth, compared to 26% of Latino borrowers and 8% of white borrowers. As a result, black borrowers struggle to repay this debt, contributing to the racial wealth gap.
"While Parent PLUS loans can open doors for children, they close many for the parents who hold them. These loans are now often taken out by families for whom college is already least accessible — low-income families and families of color — compounding the financial barriers they face and trapping families in multi-generational debt," said Peter. Granville, the author of the study. report and senior policy associate at TCF.
Compared to other student loan programs, Parent PLUS loans are riskier and more expensive. Currently, 3.7 million Americans have relatives who owe $104 billion through this federal loan program. They have higher interest rates and allow borrowers to take on more debt without having the same options to lower monthly payments or seek forgiveness as other federal loan programs.
According to the study, the average amount of debt held by Parent PLUS borrowers when a student graduates is $29,600. Under construction interest, parents often struggle to repay these debts. After 10 years of repayment, an average of 55% of the initial balance remains.
As tuition costs rise across the country, more low-income families are turning to Parent PLUS loans as an option to afford to send their children to school. Between 2000 and 2016, the annual disbursement of Parent PLUS loans increased by more than $10 billion, thanks to a 269% increase in Parent PLUS loans for families whose students are enrolled in public universities.
The study found that Parent PLUS loans are increasingly being used at institutions that serve large numbers of low-income and minority students. For example, students at historically black colleges and universities have relied significantly more on Parent PLUS loans for financial aid than students at any other type of institution for more than a decade, according to the TCF study.
Black families, who are more likely to be low income and low wealth than white borrowers, are hit hardest by the financial cost of Parent PLUS loans. According to the study, parents with children in top-rated HBCUs still owed 96% of their loan principal, compared to 47% of white Parent PLUS borrowers with children who attended colleges with the most white enrollment.
Moreover, Parent PLUS borrowings increase much more among black parents than among white parents. In the 2017-2018 award year, the share of parents who took out Parent PLUS loans for black students reached 6.2%, compared to 5.1% for white students.
It's unclear whether President Biden will include Parent PLUS loans in his debt relief plan, or whether he will include a loan-level distinction, according to people familiar with the matter.
Civil rights and higher education advocates have called for sweeping reforms to ensure that the federal student loan system operates in a way that does not impose such long-term economic burdens on borrowers, especially borrowers. of color.
"I think what that indicates is our need to create a more affordable system in the first place that doesn't require these loans. At the end of the day, if we're going to fix the racial wealth gap, if we're going to make sure that higher education doesn't deepen the racial wealth divide, we're going to have to figure out how to increase aid and make college affordable to the point where it's not that rich to be able to go," said Sameer Gadkaree, president of the Institute for College Access and Success.