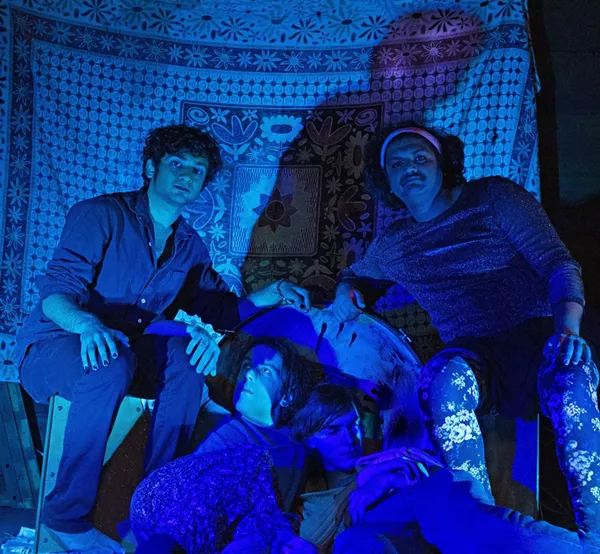 Dirt Room finds resonance in the music that sounds "a little over there …"
[ad_1]
What would the music of the apocalypse sound like? Maybe not really punk or death metal, but maybe something that completely defies the structure? In a world gone mad, maybe music that sounds defiantly eccentric would just be extremely cathartic right now …
Dirt Room is a Detroit-based music project consisting mostly of two people, but it has had a pretty elastic line-up so far. On Wednesday, SJ Sprague and Patrick Norton will be out Summer salts, a cycle of trance and sinuous modernist no-wave songs using guitars, throaty vocals, experimental percussive arrangements, dissonant counterpoint patterns, layered samples that are both haunting and fascinating, and a handful of minor touches strange.
You could say that their approach to music uses deconstructionism, but if they ignore conventional forms and arrangements, it doesn't come from some sort of hellish musical mutiny, but almost closer to fantasy. These are the guys who smash the devices and completely rebuild them into something else. In fact, Sprague had done just that when he was younger, working with another artist from the Lansing area, Matias Brimmer; they'd record something, then open the cassette cases, chop up the tape, then re-record disparate parts together to create something entirely new (and, at times, alien-sounding).
"Getting into the shoegaze and then the ambient music was pretty crucial," says Sprague. "But then, listening to the pirate Velvet Underground recordings was also really striking. Because these are not recordings that sound "good", but I can still enjoy them. I realized that you don't have to have a perfect recording to make music. A great philosophy for Dirt Room, especially during the Summer salts was that you can make music anytime, anywhere, with whatever you have around you. You don't need a studio, you don't need special instruments.
Sprague said there were often nights when he and his band mates would stay up late into the evening "knocking on shit" or "toasting" with each of them singing at the same time. Which "was a bit silly," he admits, "but it's still part of the same philosophy – that we can do it. There is no specified hardware required to make music. You can make music with everything around you.
We live in abnormal times, and these times undoubtedly encourage abnormal music.
"(Summer salts) really goes everywhere, "says Sprague. "There are punk stuff, ambient stuff, tape-collage. Over the years, we have invested a lot in samplers and synthesizers. It's almost too dynamic to be sustainable. We approached music in so many different ways.
Dirt Room has been around for four years, with Norton and Sprague as core members, as well as Sprague's brother Simon, Mahadeva Kota, Sree Kota, Jack McKay, Mat Hagger and Cameron Frank. After the pandemic destroyed the routines and concept rehearsal opportunities of bands all over the world, this project has practically ended up being a duo – for now.
"But, the way we operate today, it's still us who try to maintain an openness to experimentation," says Sprague. "And, always press 'save'. Anything and everything could be a usable idea for Dirt Room, whether it's pasting reel-to-reel tape recordings, dabbling with a few beats, zoning with a few loops, or just creating some vocal sounds. without words on the fly. This mentality predominated their creative process for the 13 tunes capriciously strung on Summer salts.
Sprague started the group with his brother when they lived in Lansing in 2016; the members of that original lineup have since moved, but Norton quickly got on board and the three spent the next year creating home recordings that were purposefully collage-like. Much of what is captured on this album comes from this fertile period of abstract compositions between 2016-2018. "A lot of people worked on this project, a lot of people came and went, and we just felt like this stuff needed to be released; the other musicians who worked there deserve to be recognized, "says Sprague.
Sprague has been writing songs since the age of 10, working on an acoustic guitar; things really took off once he started working with digital audio workspaces and producing his own recordings. Oh, what about the day he got a loop pedal? It was a big problem. "A life changing moment," he says. "Because I always thought that songs were built horizontally, with a verse, a chorus, a bridge… With a loop pedal, I could build things vertically. I started to think more about the vertical layers of a song, and that influenced my style of production.
For Norton, he was a classically trained guitarist and went on to study music technology at Wayne State. Until he was 20, he had worked on material in solitude, creating weird experimental electronic music and rhythms. "So this is the first real band I've been in," he says. "And I was the same way, thinking the songs were horizontal. After working with (Sprague) and (his brother) Simon, it really changed my way of thinking about music and increased my songwriting skills.
The impetus for someone listening to Norton and Sprague talk about their process would be to reach a cliché like "they really think outside the box." Sprague acknowledges that this is a fair enough assessment at the surface level, "but it was more so that we were trying to create a new box where we could find our own way of doing things. To be looking for a new path, rather than settling for something.
"Trying to develop our own language, musically, was a huge part of it," Norton explains. He and Sprague admitted that they are followers of a genre of music that emerged in the late 1970s and early 1980s known as no-wave – avant-garde in nature, rejecting the popular and marketable music, opting instead for a deconstruction of traditional arrangements. To many, it may sound (and sound) like a whole new language of music creation. No-wave pioneers include guitarist Arto Lindsay and Glenn Branca, but also composers like Steve Reich and Phillip Glass.
But it's a misconception that artists like Norton and Sprague (or any of those aforementioned no-wave pioneers) try to be (or appear) weird on purpose. Sprague said that they write music for the sake of accomplishment above all else. Music on Summer salts "It might be a little 'out there'," Sprague admits, but "honestly, it's just the music that speaks to us the most."
Norton postulates that this is certainly not an attempt to sound strange – but rather the ability to record anywhere, anytime, with anything, while organically allowing that release. be strange. "And (working on the music) was the only silver lining in my forties," he says. "You have all this pressure from everything going on in the world, and there's no other way you can really find a release from that pressure."
It is the sound of music that withstands the pressure of the aforementioned apocalypse. The group was able to complete an EP that will eventually be the sequel to Summer salts, and there are some particularly apocalyptic anecdotes surrounding this recording process. "We were in a studio and [producer] Chris Koltay would come and lend us microphones and set things up, "Norton explains. But that was the weekend it all stopped, last March, so a feeling of moderate anxiety was pretty common. "We were locked in this studio thinking the outside world was on fire. And those pressures are inevitably what dissolved that previous lineup. So, this (upcoming EP) captured the essence of who the band was, at that point.
Capture moments that cannot be reproduced, appreciate the euphoria that accompanies the creative process, develop a new form of expression despite all the daily doom-scrolling. It's Sale Room. It is Summer salts.
Dirt room Summer salts is available on Band Camp.
Stay up to date with news and sights from Detroit. Register now for our weekly newsletter delivered every Wednesday.
[ad_2]